This is a page of happiness
Here you can become a little happier and charge others with happiness, which is often the same thing.
Soon you'll have happy chips that can be exchanged for real products; you'll collect many happy moments, doing good deeds and involving others in happiness.
Bonuses, chips and achievements: what is in store for you?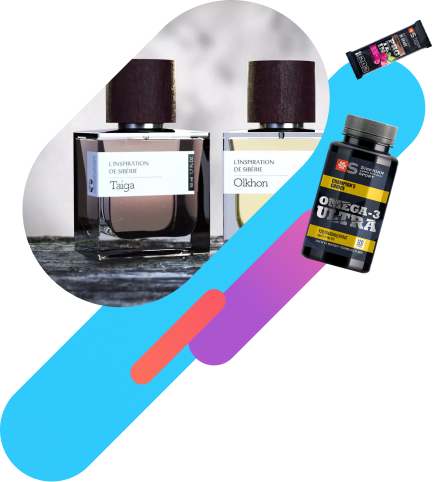 Natural and effective Siberian products

in exchange for happy chips

Bright and cheerful stickers and achievements for social networks

in exchange for the good deeds ("moments of happiness")

Daily tips on how to become happy

by sharing happiness with others or just making the world a better place (see the catalog of happy moments)
Happy chips
Your personal bonuses that you get when registering or buying happy products.
You can exchange them for desired products from the Company's E-shop. A happy chip is a hard currency in the world of happiness. One happy chip is equal to RUB
Sign up for Siberian Wellness and get 75 greeting happy chips.
Buy happy products – natural, effective and healthy!

Pleasant bonuses for shopping in Siberian Wellness

Get 25% cash back upon purchasing for 100 points or more (approximately 0 RUB)

Get up to 80% off Club 200 special sets Make purchases for 200 points (approximately 0 RUB) every month within the first six months – and get access to all Club 200 privileges.

enter your personal account under your username
exchange lucky chips for certificates
pay with certificates for purchases made in the E-shop or Company Servicing Center
enjoy Siberian, natural and effective products!
Happy moments
Your activities, for which you can also get happy chips and achievements for social networks.
Open catalog, select any from the list and add a description.

If you find nothing suitable in catalog, create your own moment. Go to the catalog, click "Add your moment" – and act!
Start exploring Company's hits – meet Happy Box!
Make your Happy Box – choose one product from each category.
Do not stop on one set – create new Happy Box with different products, use your privilege!
The offer is available right after registration.
Select one item from each category.
Happy Box contents (50 points):
Together with Siberian Wellness:
Happy moments of Siberian Wellness
More than 50 million rubles were spent on the conservation and protection of Lake Baikal.

170

170 eco-projects were implemented (from the salvation of saker falcons and snow leopards to territories greening)

We launched the "Green Wave" volunteer movement. Over 30,000 people were involved in the environmental movement.
Join thousands of happy people
Sign up and get access to happy products, promotions and business.
I'd like to join
All your personal data are protected by Siberian Wellness International LLC pursuant to the Federal Law "On Personal Data". By submitting your personal data, you consent to our Privacy Policy and accept its practices of collection, usage and distribution of personal data, including their transfer to our Affiliates and corporate business partners for the purposes of promotion and selling (including distance sales) of Siberian Wellness products.